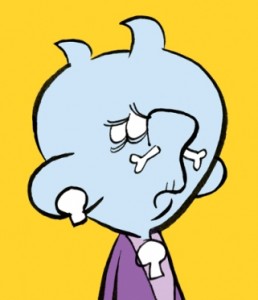 Mark Stokes is the creative master mind behind "Zombie Boy" comics and he has created a world of compelling characters like Beatrice, Claustria, Gorr, and of course… Zombie Boy. The beautifully drawn and colorful art brings the viewer in and the story keeps bringing you back for more. I'm a huge fan of Mark's work and I am absolutely thrilled to showcase him at "Don't Pick the Flowers". If you aren't a fan already, I'm convinced you will be, read on as I talk with Mark Stokes about "Zombie Boy". 
David: Hello Mark, thank you so much for being featured and
talking about your comic "Zombie Boy". When did you become interested in becoming a cartoonist? 
Mark: I remember copying Peanuts characters out of the Sunday comics when I was really little, probably around 6 or 7. My parents encouraged me as an artist, probably because no one else on either side of my family had that tendency. Even among my siblings (a brother and a sister), I'm the only one with the inclination to make art. Music runs in my family, but not drawing or painting, and certainly not cartooning.
David: Many people love the whole concept of Zombie stories, but how did
the idea for your comic come about and what is the history of your comic?
Mark: The kind of zombies I prefer are the original style, the corpse reanimated
by some kind of arcane magic, controlled by the force of hoodoo. Over the
years I've researched the origin and mythology of voodoo lore, it's a
fascinating subject. Zombies started out quite differently from the
shambling corpses with a taste for human brains that we are familiar with
now. The zombie stories I always loved were the ones from the Golden Age
of comic books and movies – the voodoo style reincarnated corpse, with the
blank eyes and bare feet, shuffling along under the influence of some
powerful dark magic. I've mentioned that I was fascinated by Jack Kirby's
The Demon series from the mid-70s, and a character he created called
Klarion, the Witch Boy. Visually, he was a big inspiration. The name
"Zombie Boy" sort of started out as a joke, which percolated into
something more substantial over a period of time. I've had quite a few
years to develop him into what he is today.
David: Zombie Boy has been around for some time and you've
created your comic in different formats. Why the change?
Mark: That's one of the best parts about owning your own characters because you
can do whatever you want with them and nobody can say otherwise. I like to
change things up and try new things, especially with my own projects, so
it was a natural that ZB would evolve and mutate. There was a period of a
few years when I made him more of a young adult, with a darker, edgier
approach; I was inspired by the Manga and anime I was immersed in at the
time. Honestly, it was great fun playing with more adult type concepts,
but I always tried to keep the humor intact.
David: You had Jerry Bittle (Geech comic strip) as an art
instructor, what was that like and what wisdom from him have you kept with you?
Mark: When I was in art school, they had the foresight to bring Jerry Bittle in
to teach a cartooning course. At the time, he was transitioning from
freelance illustration work to his own syndicated comic strip, Geech, and
he was just a few years into his run. Jerry was the kind of teacher you
always wanted, funny, intelligent and quirky, he had a way of instructing
that was very hands-off, but because you liked him so much you really
wanted to do your best work. I visited his studio, a room he had set up in
the middle of his home, his desk was loaded with piles of art supplies and
papers, with stuffed bookshelves and general organized chaos. Jerry was
such a wonderful guy with a very dry wit and an infectious sense of humor.
At the time, drawing comic strips was the absolute last thing on my mind,
but I really appreciated the hard work involved. I can't say enough good
things about Jerry; he was truly an original artist and an inspiring
person.
David: What's on the horizon with Zombie Boy? Can we expect to see any books or bigger comics?
Mark: I'm going to do some longer storylines, try to focus on each of the
characters in mini-stories, and eventually attempt to corral it all
together in some sort of book form. Right now, though, I'm concentrating
on doing the best work I can and keep my posting schedule up!
David: Who are some of your cartooning heroes and what
comics are your favorites?
Mark: I love Jack Cole, Dick Briefer, Jack Kirby, Basil Wolverton, Jeff
MacNelly, George Herriman, Boody Rogers, Ernie Bushmiller, Moebius and
Herge. Favorite comics include Hagar the Horrible, Krazy Kat, Tintin, and
Little Nemo – there are so many, I can't list them all!
David: Mark it was a true pleasure to feature you and your comic Zombie Boy. I am a fan and can't wait to see what's next. I wish the best in all that you have planned!
And if you the reader aren't already familiar with Zombie Boy Comic, do check it out, you won't regret it! I believe you will become a fan of Mark Stokes and his creation "Zombie Boy"! Check the links below:
Zombie Boy Comic website: www.zombieboycomics.com
Twitter: twitter.com/krash_pow