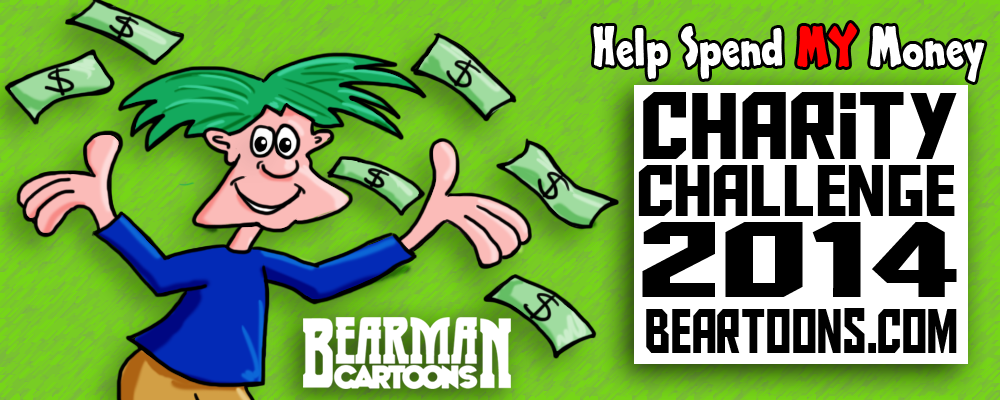 This week at Don't Pick the Flowers blog I want to draw attention to Bearman Cartoons Charity Challenge and his generous heart for giving. . Last year at this time I posted a blog featuring Bearman himself which you can read here: www.dontpicktheflowers.com/blog/?p=4271 . Bearman is donating his own money to give to worthwhile charities  of his choosing which are 1: Cincinnati FreeStore FoodBank 2: Brandon C Gromada Head and Neck Foundation 3: Crayons to Computers. And here is how it works:
$10 – For any cartoonists who uses ME (Bearman) in a cartoon in their strip.  Use "BEARMAN" somewhere in the toon.  Maybe it's a character's name, a name on a bar sign in the background, integrating my green haired gravatar into a background character or even loosely as "Check out that Bear, man!"  Be sure to link back to this post so I know to include you in my tally.   I know some of you work with a buffer so if you plan to post after May just contact me and let me know and I will add it to the list.
$5 – Blog about my challenge to your readers and link back to this entry in your post – http://beartoons.com/2014/04/29/bearman-cartoons-charity-challenge-2014/
$1 – Circle/Follow me on Google Plus – http://googleplus.beartoons.com.   Currently I have 70,495 followers.
So if you are a cartoonist, blogger or want to add Bearman to your circle of friends on Googleplus, you will be donating (his money) to a worthwhile charity. That sounds simple enough don't you think! Here's the link to his challenge and blog again: beartoons.com/2014/04/29/bearman-cartoons-charity-challenge-2014/
And here's a could of extra drawings from me this week:
May the Fourth Be with you, an extra comic for Star Wars Day May 4th, 2014.
A drawing of Salvador Dali from the sketch book for fun. As a young person I really loved Surrealism and Dali, and still do.
I'm calling this Daffy Warhol. A mash up of Daffy Duck and Andy Warhol. Daffy is one of my favorite Looney Tunes characters and of course I was/am a Pop Art/Andy fan.
From the sketchbook a drawing of Ian McCulloch (Vocalist of Echo and the Bunnymen) for his 55th Birthday on May 5th, 2014.
So check out Bearman Cartoons and help him reach his goal for charity, and I hope you've enjoyed the art, until next time, David Hurley.