Daniel Barton is a man of many talents. Daniel grew up in Arkansas (USA)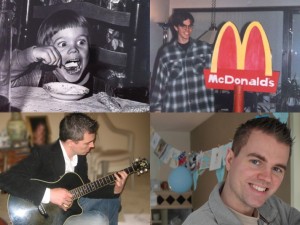 and at the age of 12 moved to Holland (Europe) where he found a new culture and language. Forward a few years, this experience helped develop the character Goober for his very fun web comic "Goober and Cindy". And being a man of many talents he also has his hands in creating music and hosts his own podcast called "The Webcomic Show", where he features other webcomic creators. This week I'm happy to welcome Daniel Barton to Don't Pick the Flowers and go behind the scenes as he discusses his creative passions. 
David: Hello Daniel, thank you so much for being featured at Don't Pick the Flowers. Daniel you have a very fun and cute comic called "Goober and Cindy", how did the comic come about and can you give a little history of your comic?
Daniel: First of all thanks for taking the time to read my comic. I appreciate all the people that come to read my work at gooberandcindy.com and even more if they leave a comment. How the comic started? Well I'll tell you.
I grew up in Arkansas (USA) and moved to Holland (Europe) at the age of 12. Coming into a different culture, with a different language, made me feel like an alien in a new world. Using my artistic talents I escaped this feeling by creating the alien comic strip character Goober.
The character Goober was published the first time in a school paper in Holland in 1994. In 2000 I created a weekly strip for online. I stopped in 2001 for lack of inspiration and motivation.
In 2010 I started noticing webcomics were growing with the help of software like WordPress and Social Media tools (Twitter and Facebook) helping to create and promote these webcomics. I always wanted to restart the comic and I thought I had enough material to start a weekly webcomic and sustain that schedule. And now 2, 5 years in, I'm still going strong.
Last year a new character has been added at the same time as the birth of my son. The character is called Alex and will be growing at the same speed as my son. So you will see progression in this character. First teeth, first steps, and so on, and so forth.
David: When did you become interested in making comics and who are your influences?
Daniel: I always had been making drawings, but the school paper gave me a public outlet to showcase my work to a larger audience. I started out doing different jokes with different characters and eventually I developed the character Goober with a small 4 page storyline. You can see the first Goober comic in 1994 if you become a free member on my site. You can register here. www.gooberandcindy.com/register.php
My dad is a big influence. He is an abstract artists and I always watched him create paintings in his studio. I studied art-history and went to graphic school. Of course the many cartoons on TV, movies and comic books influenced me. To name a few: Ren & Stimpy, Garfield, Batman, X-men, Spiderman, Flintstones, the list goes on…
David: You host your own podcast called "The Webcomic Show"; can you share a little about your show?

Daniel: Sure. The show is awesome. It's a video podcast of webcomic creators. I get to interview people who I admire and also understand what I go through every week to create a strip. It's a lot of fun. I will keep on doing it every winter, spring, summer and fall. You can check it out here www.gooberandcindy.com/interviews
I currently have had Mark Stokes (www.zombieboycomics.com) on, and also the Twxxd.com brothers (www.twxxd.com) . On January 19th 2013 I will be recording the winter episode. It's a little different this time. I am interviewing 3 different people this time. And the interviews will be shorter. I'm kind of trying things out still. Seeing what will work the best.
I might even interview you sometime. If you have a webcam and mic available. 🙂 (David: Hey sounds fun to me! 🙂 )
David: You're a man of many interests and talents you make music also (Alien7). When did you become interested in making music and call you tell a little about the creative process?
Daniel: Music and art are very important in my life. Being a creative person I love using these outlets to express my emotions. Growing up I sang every weekend. And in Holland I was introduced to the Amiga 500 on which I created my first digital tunes. I bought a guitar when I turned 21 and started to learn how to play guitar. I have serenaded quite a few brides and grooms in the last few years.
Alien7 is the name I use for my digital music. You can find all of it at www.alien7.nl
I just created my first digital song with my own vocals. And the full version will be out on Jan 1st 2013.
I hope everybody likes it. Drop a comment on the site or you can comment on soundcloud as well.
soundcloud.com/alien7
The creative process you ask. It's been a long road of experimenting, learning different software tools. I am using Renoise currently. www.renoise.com/
I have probably created 500+ test songs since 1994. Maybe even more. I have no idea. I'm putting out a new song every month. So that's 12 songs a year. Genres include Dance, Chiptunes, Synthpop and Electronic.
David: What can we the fans expect to see in future with Goober and Cindy and all that you have your hands in?
Daniel: Every week a new Goober and Cindy comic. Every month a new Alien7 song. Every Season a new "The Webcomic Show". And I'm working on having a booklet finished of the first hundred Goober and Cindy strips at the end of 2013.
David: I'm really looking forward to that booklet, and of course your weekly comic, new songs and the podcasts! Thank you so much Daniel for taking the time to share your work here at Don't Pick the Flowers and I wish you continued inspiration and success in all your endeavors!
And for all the fans of Goober and Cindy and those being introduced, check out the links below for more fun with Daniel Barton.
Goober and Cindy: www.gooberandcindy.com
Register at Goober and Cindy: www.gooberandcindy.com/register.php
The Webcomic Show: www.gooberandcindy.com/interviews/
Facebook: www.facebook.com/gooberandcindycomic
Twitter: twitter.com/gooberandcindy
Google+: plus.google.com/104530527058355504608/posts
Soundcloud: soundcloud.com/alien7
Music site: www.alien7.nl/