Doug Eat Dog is a cute and wonderful comic by Brian Anderson, which was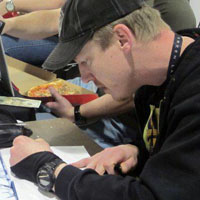 launched in newspapers in 2005. Brian is a super talent who has written and illustrated children's books including "Nighty Night, Sleepy Sleeps", "The Prince's New Pet" and the upcoming "Monster Chefs". Brian's beautiful artwork draws the viewer into adorable scenes to epic tales which children and adults alike fall in love with. I was thrilled to catch Brian from his busy schedule and have him answer some questions about his fantastic world of art and now privileged to share them with you here today at Don't Pick the Flowers.
David: Hello Brian, thank you for being featured at "Don't Pick the Flowers", I'm a big fan of your work. When did you become interested in art, illustration and comics, and decide this was the direction you wanted to take with your life?

My parents said I started around 2 and I remember drawing James Bond comics in second grade. Mostly chase scenes. So even when I had other interests, cartooning and writing was always there.
David: You create one of my favorite comics "Dog Eat Doug", what's the history behind the characters and story? Where did the whole idea come from?
Well, thanks. The strip came from my dog. I was working on two completely different pitches for the syndicates and wasn't thrilled with either of them. I watched Sophie sleeping on the couch next to me and the whole thing popped into my head. Title, the baby and roughly the first twenty strips. Two years later I had an actual baby boy which turned the strip into a documentary.
David: What are the tools you work with to create your comic? And what are your favorites when illustrating?


This will be hard to keep short. For the strip, I started off with pens like Microns and Copics. They were the most comfortable. However, from the get go I knew the strip needed to be simple brush strokes and it took me awhile to work up the guts to switch.
When I did switch, I couldn't really have open bottles of ink and brushes out in the open. Add that to a baby and a dog and your house turns into a Jackson Pollock mural. So I discovered Jetpens.com and tried out every brush pen they had. I'm still changing it up and I also do a lot of strips digitally when time is short.
Right now when it comes to doodling or working out a style for a new picture book I use whatever is lying around. I let the tools dictate the style. I spent way too much time trying to force pens and pencils to do things they just couldn't.
For example, on The Conjurers webcomic, I started penciling on top of pencils without erasing. Then I would ink a bit on top of that with ballpoint pens. Then I'd add some watercolors and do the finishes in photoshop. I had been so conditioned to pencil, ink, erase, repeat. It was a tremendous amount of fun to simply mess around not caring if it turned to a muddy mess.
David: You have other books which are in print like "The Prince's New Pet" can you share a little about your other work and what we can expect in the future?

"Monster Chefs" will be published next year, in the spring I think. My son (four at the time) came up with the story. Right now I'm in pitch mode for a new picture book and comic book series. Also plugging through a novel. Hopefully they all find homes next year. We'll see.
David: Who are some of your influences?
That's a looooong list. Although they are regulars. My top four favorite writers are Hemingway, Neil Gaiman, Clive Barker and Vince Flynn. They make the list because I re-read a lot of their books every year.
My cartooning influences contain most of the usual suspects: Schultz, Watterson, Davis and almost anyone that drew for MAD magazine. In high school I discovered McFarlane and the Image crew. And now I constantly browse the interwebs looking for artists I've never seen before. My RSS reader is crammed with artists' blogs.
David: How would you like your work to be remembered and what kind of legacy would you like to have?
I would love to be known as a good story teller.
David: I believe you will be Brian and thank you so much for sharing your world of art and writing . I look forward to seeing what lies ahead for you, I know it will be full of outstanding stories and beautiful artwork.
And for all those who are just discovering Brian Anderson or have been devote followers, click on the links below to a wonderful world of magic.
Dog Eat Doug at Alpha Comedy: dog-eat-doug.html
Dog Eat Doug website: dogeatdoug.com
Dog Eat Doug Creators: dog-eat-doug.html
Dog Eat Doug GoComics: dogeatdoug
Twitter: dogeatdoug
Dog Eat Doug Facebook: dogeatdougfan
Monster Chefs Facebook: monsterchefs