Ralph Hagen is the creator (of one of my favorite comics) "The Barn".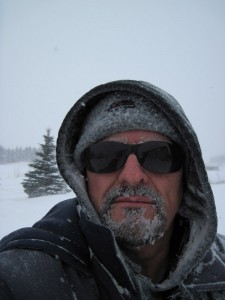 Ralph has been creating comics and art for many years but one morning about 5 years ago he was drinking his coffee and scribbling out some ideas when two characters, Stan and Rory, appeared.  To make the story short, he had created two characters to one of the best comics in syndication today. I'm thrilled to have Ralph Hagen featured today at Don't Pick the Flowers and find out how he creates and what it's like behind the scenes of "The Barn". 
David: Hello Ralph, it's an absolute pleasure to feature you and your comic "The Barn" at Don't Pick the Flowers. I'm a huge fan and I know so many others who are also (especially cartoonists it seems). Where did the idea for The Barn come from, and what is your history with comics?
Ralph: Hi, David! First off, I'd like to thank you for having me here. It's always fun to talk shop with fellow cartoonists.
The idea for a farm full of crazy animals was probably been rattling around in my enormous head for a long time. I was born and raised on a farm and I've been doodling silly pictures since I could hold a pencil, so the two just went hand in hand. One morning about 5 years ago, in-between my second and third cup of coffee, Stan and Rory just appeared. In half an hour I had at least 20 scribbled strips and it just developed from there. To start with, I had two ideas. 1: animals in a vet clinic and 2: Crazy animals on a farm.  I sent both concepts to Creators. They suggested combining the two and five weeks from the day I drew the first roughs, I was in development. Eleven month later it was launched. I can still remember the 'phone call'. Very exciting to say the least. The people at Creators Syndicate are great. Can't say enough good things about everyone there.
I sold my first cartoon to a local paper in 1976 for $8. The sad part is it hasn't gone up much since then. Anyways, they hired me to do a weekly editorial, and I've been drawing ever since. After high school I got married and went to work in the oilfield, but I continued to draw all the while for newspapers, clients, and mags like Saturday Evening Post and Readers Digest.
For a couple years I did color work for Guy Gilchrist (Nancy), which taught me all the Photoshop skills I would need later on with my own strip. As my work list grew with papers and clients and with the syndication of my strip in 2008, I handed in the pipe wrench for the drawing table full time. I can tell you I prefer it over working outside when it's 40 below; as I am happy to say I have never been frostbitten while drawing cartoons. Now I can just pour another cup of coffee and look outside at the cold while I draw!
David: Your comic makes cartooning look simple (which I love). What's your creative process like, and how do you prepare for illustrating and writing your comic? What kind of schedule do you have?
Ralph: Yes, my strip is very simple, but I felt it fit the situation. I've had people say it is simple in a B.C kind of way, which is an honour and feels good.  After all the whole thing takes place in a pasture between a bull and a sheep! How simple is that? As I have said many times, there is nothing deep about The Barn. I simply try to make the reader at least smile. If they chuckle or laugh out loud, even better. Simple little things often get just as big a reaction from the reader as elaborate artwork and 6 panels of text. At least that's my view. Chris Browne once said the trick to good writing is to 'dumb it down'. I now know what he meant.
I think most every cartoonist will say the same thing when asked how they think of their ideas. I sit down in front of a blank piece of paper each day and stare at it, thinking I can't possibly think of another funny idea. Then they happen as they always do, and I begin drawing. Life in general holds all the humour. I find the editorial cartooning I've done for the last 30 years helps a great deal in the writing as well. Most of the gags are observations on every day occurrences but taken to the extreme as Rory likes to do. Of course many of the ideas do pop into my head. Usually at the most inopportune time, but I quickly jot them down before they're gone.
I'm in the studio most every day. Sometimes for 8 hours (or more), sometimes less. A month of strips probably takes a couple weeks from start to finish. This includes ideas, writing, dailies and color Sundays. I also color all my own dailies as well, which go out with the b&w's. I work about 3 months ahead of publication date. This gives me some breathing room. Also, should I fall off the roof, some healing time. Four years ago, I never thought I could keep up the pace, but as with everything in life repetition makes things easier.
David: In your opinion what makes a good comic? And what advice do you give to anyone who wants to get involved in the world of comics?
Ralph: Well, in my opinion I like a strip that makes me:
A. Smile
B. Chuckle.
C. Laugh out loud.
or better yet,
D. All of the above.
But that's just me, as humour is a personal thing. Everyone has a slightly different slant on what is funny and what isn't. I think one of my favourite quotes was by the late great Mr. Schulz.  "I just draw what I think is funny and hope others do, too."  Works for me.
Advice?   I think anyone that wants to make a career in the comic world already has the most important thing they'll need, and that is their love of cartooning. I'd say be ready for long days by yourself in a small room. Cartooning is a lonely profession. Don't be afraid to take advice. It's free and why reinvent the wheel. Draw what you like and believe in yourself. Be ready for criticism and rejection. All part of the game.  Never give up the dream.  I was 48 years old when I was syndicated. That's a lot of dreaming 😉
David: Who are your favourite cartoonists and cartooning heroes?
Ralph: I grew up loving strips like B.C and The Wizard of Id. When Parker and Hart were behind the pens the writing was genius. I think that's where the simplicity of my strip comes from. Of course Charles Schulz was my first hero. Gary Larson was a ground breaking cartoonist. There was a Canadian cartoonist named Doug Wright who was a genius in my opinion. His artwork was fantastic and his entire pieces were pantomime, having no words. I think this is where a lot of my influence to cartooning came from in my early years. Aside from the comic strip, the old Warner Brothers Looney Tunes, along with Monty Python were a huge influence on the sense of humour I ended up with.
David: What's your favorite thing about being a cartoonist and what kind of legacy would you like to leave with The Barn?
Ralph: The favourite thing about cartooning is I can do what I love to do. As with any of the arts, we do it because we must. Whether it's playing the cello, painting, a street performer or writing a novel, it's what we do. A favourite musician from my long hair days in the 70's, James Taylor, nailed it with a line in his song. 'The secret of life is enjoying the passage of time.' That's why I cartoon. I enjoy it.
As far as a legacy goes, I'd just like to do the strip as long as I'm having fun doing it. I hope someday my grandkids dig out the collection from the attic and have some chuckles. That would be good too.
Thanks, David! Keep up the great work! To the rest of the wonderful cartoonists here, I salute you! – Ralph, Stan and Rory
David: Thank you Ralph! Thank you for sharing your story and the story of The Barn, you create one of my favorite comics. Truly an honor to have you and your work featured. I look forward to reading "The Barn" every day. 
And for anyone who might not be familiar with the barn, you are in for a treat. Click on the links below to find out more of Ralph Hagen and The Barn!
Hagentoons: www.hagenstoons.com 
Creators.com: www.creators.com/comics/the-barn.html
Alphacomedy: alphacomedy.com/gallery/view/the-barn.html
Facebook: www.facebook.com/pages/The-Barn-by-Ralph-Hagen/111410988886938