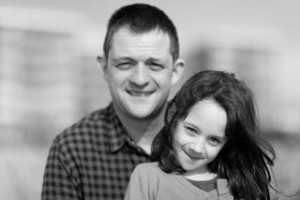 D.M. Rolfe (Darren Rolfe) is the creator of one of my favorite webcomics "Mighty Monocle", a hilarious comic about Ralph a British Super Hero from New York.  I love Darren's humor and his loose sketchy art style. If you aren't familiar with "Mighty Monocle" you are in for a treat. So let's go behind the scenes and spend some time with Darren Rolfe and Mighty Monocle!
David: Hello Darren, I'm truly thrilled to feature you and your comic "The Mighty Monocle". How long have you been making comics and how did the idea for your comic come about?
Darren: Firstly can I take the opportunity to thank you profusely for featuring the "Mighty Monocle" on your blog. I'm honoured!
I remember the very day I first encountered a webcomic. It must be have been 4 years ago, I was listening to an Apple technology podcast and the one of the presenters mentioned his "top 5" webcomics. "Legend of Bill" was one of those webcomics. I became a huge fan. So much so, I even did a guest strip for David Reddick the creator. He liked the strip and he ran it! From that moment I was hooked on webcomics and the seed was firmly planted.
The idea for the comic strip was actually very calculated. I knew I wanted to do a "superhero" strip and I didn't consider anything else. For a brief period I considered adapting the idea as an entry for D.C.'s Zuda.
Prior to launching as a comic strip I kicked the idea around for at least 18 months. Different names, different characters, different costumes, I went through stacks and stacks of notebooks.
The first "Mighty Monocle" comic strip ran in Feb 2011. When I look back at the art on that very first strip now, I cringe!
David: For anyone not familiar with Mighty Monocle, can you share a little about the story and characters?
Darren: "Mighty Monocle" is the Tale of a British Superhero unlike any other British Superhero before him… an American. The tale follows Ralph, who was officially the worst Superhero in New York, as he takes on the role of Mighty Monocle the newest superhero to the National Superhero Services (NSS) inPeesingdon-on-Sea, England.
The format is gag-a-day style comic strip. It was my intention to try and show a different side to the superhero genre. For example, what do superheroes talk about at the water cooler? What they do to relax? The humdrum side of a superhero lifestyle so to speak, and try and find the humour in that.
The main two characters are Ralph Ditmas a.k.a the "Mighty Monocle" and Terry his canine sidekick. There are a few other characters that have popped up from time to time. For instance recently, I wrote an Olympic story arc which ran for a month. In it the "Mighty Monocle" met and fell in love with Olga an athlete from Mogrovia. I love dropping in random characters as and when I get the urge.
David: What is your routine for making your comic and what tools do you use?
Darren: I do most of my writing on my daily commute toLondon. This gives me approximately 2.5 hours writing time on the train every day. Sometimes I just try to sketch silly poses. Sometimes I have scenarios that I try and force myself to think of humourous situations/gags. Sometimes I just stare blankly at the page!
But, whatever I do, I do it in my trusty Moleskine notebook. It travels with me everywhere.
When I'm happy with a gag or an idea I get a big piece of layout paper and roughly sketch out the panels. More often than not, I break out of the panels and the sketch ends up spreading over the whole sheet. (See picture at right). This is my chance to tweak the timing and/or polish the funny.
When I'm relatively happy with that, I then get out my lightbox and place a sheet of cartridge paper over the top of the layout sketch. I then very loosely follow the sketch below. I want "Mighty Monocle" to have a fluid/loose style. So I tend to draw quickly. If I slow down and try to follow the lines it gets too tight.
For the pen geeks out there… I only use Pigma Micron 0.5mm pens. I've used other brands and I do occasionally use other brands for roughs. But for the final I only use Pigma. I couldn't get them here in the U.K. so I had to ship them in from the U.S. Thankfully; I now have a U.K. stockist.
David: Who are some of your cartooning hero's and inspirations?
Darren: Some of my earliest creative influences are the illustrators/cartoonists of the books I read as a kid. People like, Quentin Blake, Ronald Searle, Roger Hargreaves, Albert Uderzo, Hergé, Ralph Steadman and Maurice Sendak. They all played a part in opening my eyes to cartoon art and the power of illustration.
Now I'm inspired by comic strip artists like, Richard Thompson, Glenn McCoy, Stephan Pastis, Mark Buford and Brian Crane to name just a few. These are artists who can not only draw but their writing is absolutely hilarious and they do it day in and day out.
David: What is your favorite thing about being a cartoonist and what are your future goals for Mighty Monocle?
Darren: Through comics I've made some amazing friends all over the World. So, for me the community has to be my favourite aspect. I can confirm that cartoonists are the nicest, friendliest and most generous bunch of people.
Short-term goals for the comic are for me to try and increase the update schedule. I'm painfully aware that to get more readers I need to update more often than once a week.
Long-term goals…? I don't really have any. Other than I hope to be still doing a comic strip and getting better and better at it. But, the idea of producing my own book collection would be an exciting proposition.
Thanks for reading,
ROLFE
David:Darren it is such an honor to have you featured. I love Mighty Monocle and expect great success for you. I can't wait to see what happens next with your future endeavors. 
And for everyone reading, if you aren't familiar with Darren Rolfe and Mighty Monocle go check out the links below for more information, I know you will be a fan!
Website: www.mightymonocle.com
Twitter: twitter.com/mightymonocle
Facebook: www.facebook.com/mightymonocle