Charles Dowd is the creator of the fantastic all age's webcomic/graphic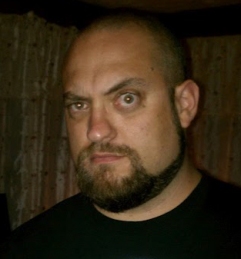 novel "Lilith Dark" and illustrator of dark and surreal fantasy art. Charles was inspired to create Lilith Dark so he could share his love of comics with his daughter. The artwork is beautiful, mysterious and the intriguing story brings you back week after week to a wonderful world of adventure and excitement. I'm thrilled to go behind the scenes to find out more of Charles Dowd and Lilith Dark, and share it here with you at "Don't Pick the Flowers". 
David: Hello Charles, thank you for being featured at "Don't Pick the Flowers" and sharing you incredible work. You are an excellent illustrator and web-cartoonist, when did you become interested in comics and illustration and decide this was your future?
Charles: Hi David thanks for the kind words. I've been drawing my entire life. It's just something that I've always done. I guess it comes naturally.
I used to read Calvin & Hobbes, Mother Goose & Grimm, and a ton of other newspaper strips back in the day. I always loved them, and I remember always looking forward to getting the Sunday paper. That just naturally progressed into a love of comics. A friend of mine took me to a comic shop, and I was hooked. My first comic book purchase ever was X-Force #1. I was just like, "this is what I wanna do."
David: I love your all ages web comic "Lilith Dark", can you share a little about the idea and story?
Charles: "Lilith Dark" is about a little girl who imagines that she's a swords & sorcery type warrior, who fights wicked beasties. It usually turns out that the monsters are really just her dog, or brother. As the story unfolds, she discovers that those wicked beasties might just be real after all.
I was inspired to create Lilith after taking my then seven year old daughter to my local comic shop. We quickly discovered that there was virtually nothing for a seven year old girl to read that wasn't overly violent or sexual, so I created Lilith Dark as a reaction to that experience. I love comics, and I want my daughter to love comics too, so I made one just for her.
David: What are your tools of choice when creating your work?
Charles: These days I work almost exclusively digital. I use an old Wacom Intuos 3, and I draw my comics in a program called Manga Studio. It has some really great brushes. I do all of my painting in Photoshop. Some people do all of their color work in MS, but I haven't figured it out yet.
For LD, I'm going for more of a water-colored, traditional children's book kind of look, and I find Photoshop works great for that.
David: When you are creating, do you have a routine and what sparks your creativity?
Charles: Yeah, I put on headphones and listen to really loud music for about two hours while I catch up on emails and social media. Then I'm ready to get started on drawing. Writing is different though. I kind of just work out plots and scenarios in my head all day, and jot it all down in a jumbled mess of thumbnail sketches on loose leaf paper and napkins. Somehow that all turns into comics haha!
David: What advice do you give to those wanting to start their own webcomic or series?
Charles: Just do it. There are zero thresholds for making comics thanks to the internet. If you want to make comics, then make them. Marvel isn't going to just magically show up at your house one day begging you to draw Spider-Man. There is literally no excuse, unless you really just don't want to do it.
David: Who are your greatest influences in the comic world?
Charles: Watterson, his work has affected me and my entire generation.
Rob Liefeld, love him or hate him, the guy is an advocate for the medium, and he does it his way. Gotta respect that.
Sam Kieth, his art has always been a huge influence on me. He's a guy who's not afraid to break the norm and do something totally off the wall. That guy can ink like no other.
Jim Henson, I love pretty much everything he's ever been a part of. A true genius.
David: Thank you Charles for sharing the world of Lilith Dark and how you create an exciting adventure for young and old. It's a true pleasure to feature your work and watch the story unravel. I can't wait to see what's next.
And for anyone who isn't familiar with Charles Dowd and Lilith Dark now is your time to check out and share this truly intriguing fantasy!
Lilith Dark: lilithdark.com
Charles Dowd: cdowd.com
Facebook: www.facebook.com/cdowd
Twitter: twitter.com/charlesdowd
Google+: plus.google.com/105489065160959389675/about
Email: charlie@cdowd.com