I'm truly excited to post a special and "extra" blog today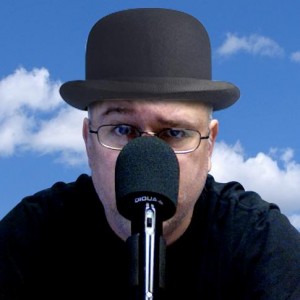 , plus it is time sensitive. Tom Racine host of Tall Tale Radio has a fundraiser going on at Indiegogo. If you haven't had the privilege of hearing Tall Tale Radio, it's a fantastic podcast about comic strips, animation, movies, television, comics and cartoons with the best artists in print, on the web, and on screen! And this Saturday, September 15th from 8am to 8pm Pacific Time Tom will have a marathon with at least 32 quests (including yours truly). Featured Live on Justin TV, there will be prizes given away of Avengers DVD's, copies of Tom's book and other special incentives to help raise funds for Tall Tale Radio. Here are a few words from Tom about his career, his Indiegogo project and the future of Tall Tale Radio. 
David: Hello Tom, it is a great honor to have you featured at "Don't Pick the Flowers". First, let's start with your show "Tall Tale Radio". For anyone who isn't familiar with your show, can you share what you and Tall Tale Radio is all about?
Tom: Happy to be here, David!  Tall Tale Radio started out in 2008 as the official podcast of "Tall Tale Features," which was a comic collective started by Mike Witmer of the brilliant "Pinkerton."  We had a bunch of great artists there, and Mike asked me to be their podcaster. I'd been doing "Comics Coast to Coast" with Brian Dunaway and Justin Thompson (which is still running and a great comic's podcast!) and had a blast with them, but I wanted to do my own thing and really focus on long-form interviews.  I started off generally interviewing webcartoonists and print cartoonists, but have branched out to animators, musicians, actors…pretty much anyone who has a creative bent.  My focus and love is comics in general, and I get to have fun at San Diego Comic Con and New York Comic Con, where I do more video interviews and features. Sadly, like many wonderful web-groups, Tall Tale Features slowly dissolved over time due mostly to people just being way too busy to maintain it.  But Tall Tale Radio lives on.
David: There's also an Indiegogo project you've started, what's the insight on that?
Tom: Well, I've publicized and helped out on several Kickstarter and Indiegogo crowd-sourcing fundraisers, and I think they're a very cool thing.  This fall, I'm heading to the Kenosha Festival of Cartooning in Kenosha, WI, as a panel moderator…in October, I'm heading to NYCC again…and probably biggest of all, I'm about to launch on Universal Syndicate's GoComics site as the very first podcast they're hosting.  So, all great things…but sadly, my MacBook Pro from 2006 is getting long in the tooth, slowing down, and just, well, plain old.  I'm a poor workin' artist, so I can't get one on my own, and then the idea of using Indiegogo as a fundraiser might be the answer.  I'm not very good at self-promotion, and it's not easy for me to ask for help, but I knew if I could get some cool incentives from my print and web comic friends, I was pretty sure I could raise a modest amount of money to cover a new Mac and some recording equipment.  I was stunned at the response; frankly…it's been so great. Very inspirational and motivating as well.
David: This Saturday, September 15th, you are having a fundraiser for Tall Tale Radio, what's taking place and who's on the show?
Tom: The idea to do a marathon podcast came to me when I was putting together the Indiegogo.  Most people who are doing a Kickstarter-type of thing need publicity to help get the word out, and of course, I was using Facebook and Twitter as best I could.  Then I realized I'm my OWN publicity machine…why not do a cool marathon podcast and have lots of people on to talk to.  Which then became a video podcast that I'd live-stream, and then it became 12 hours long…I hope I can pull it off!  Again, the response and support has been amazing.  I was afraid it'd be hours of me sitting around with no one listening as I read the phone book or something, but I pretty much have someone scheduled every 15 minutes!  I hope my work computer and Skype are up to the challenge!  People can watch it here:
And I believe you'll be on at 4:15pm, Pacific Time! Assuming I haven't crashed and burned and taken 80% of the internet with me!
David: You are also a cartoonist, what are some you have worked on and what are your favorites?
Tom: I've been a cartoonist and illustrator all my life, with four or five syndicate submissions that were roundly rejected under my belt.  I did an online comic called "BookSmarts" back in 2005-ish. It was on Comics Sherpa, and was basically "The Far Side" meets an English degree.  I did fairy tales, novels, Shakespeare, and jokes like that.  Purely and utterly un-syndicateable, but fun!  I don't do it any more due mostly to time issues. I have two little girls, a day job, the podcast, and freelance.  But I do miss it. I enjoy doing guest strips for folks from time to time…in fact, I just did one for my good friend and webmistress, Irma Eriksson of "Imy" that you can see here:
www.imycomic.com/2012/09/11/guest-strip-by-tom-racine-2/
I miss doing a comic, honestly, and often get the bug.  I'm a fan of so many out there…hard to list.  "Pinkerton," "Superfogeys," "PC Weenies," "Bug" to name a few. And a big fan of syndicated folks like "The Brilliant Mind of Edison Lee," "Get Fuzzy," "Pearls Before Swine," "Sally Forth" and many more.  I'm just a fan of the art form in general.  Anyone who creates a comic gets a tip of the hat from me.
David: What can we expect from you and Tall Tale Radio in the future, and with that, what's your favorite thing about hosting?

Tom: As mentioned before, I'm about to launch on GoComics, which should expand my reach exponentially.  I don't have a start date, but it'll be this fall for sure. That should extend my reach and just allow me more access to some of the great artists out there.  But what I really love is to just talk to artists about their work and their journeys. I want to talk to everyone from Pulitzer Prize winners to webcomic folks just starting out.  It's just great to make contact with so many amazing artists and to call many of them friends.  Growing up in the Dark Ages of the Pre-Internet, there wasn't a lot of support out there for young goofy nerd artists. Now, we're everywhere and the community is so supportive and growing, and my greatest pleasure is being more and more a voice of support to them all.
David: Tom what a pleasure to have you featured and to hear your story and the exciting future of Tall Tale Radio. I wish you the best with all that lies ahead and look forward to watching and speaking with you this Saturday!
Okay folks now it's your turn to find out about Tom Racine and Tall Tale Radio. Check out Tall Tale Radio, his Indiegogo project and links to keep in touch with Tom Racine:
Tall Tale Radio: www.talltaleradio.com
JustinTV Tall Tall Radio Live Broadcast (September 15th, 8am-8pm Pacific Time) www.justin.tv/talltaleradio
Indiegogo Fundraiser: www.indiegogo.com/talltaleradio
Tall Tale Radio on Facebook: www.facebook.com/TallTaleRadio
Twitter: twitter.com/talltaleradio