Drew Aquilina is the creator of the humorous and environmentally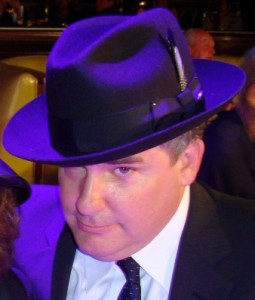 friendly comic "Green Pieces". Drew has won various awards for his work including: Comic/Graphic Novel of the Year (2011 London Book Festival), Wildcard Runner up (2011 New England Book Festival), USA Best Books (2011 Environment Book of the Year) and the list of Awards goes on! In his spare time he lectures at schools teaching children about cartoons and the environment. He also is a member of the Independent Book Publishers Association and the Arizona Authors Association. You can also find Drew and his characters from Green Pieces on The Morning Scramble at AZ-TV Morning Show hosted by Pat McMahon (Wallace and Ladmo). So with great pleasure it is an honor to feature Drew Aquilina and "Green Pieces" at Don't Pick the Flowers.
David: Hello Drew, thank you for being featured at "Don't Pick the Flowers". You have a rich history with your comic "Green Pieces". Can you share some of the back story of your comic strip and how it all came about?
Drew: The cartoon idea started during my first year of college.  When writing letters to my friends, I would draw simple cartoons starring my pet turtle named Iggman.   I transferred to the University of Massachusetts Amherst for my second year of college and it was there I developed a daily strip called Iggman on Campus which was published in the student newspaper.  That strip ran for several semesters and finally ended when I graduated from UMass with a degree in Landscape Architecture.  I then found myself back in Connecticut developing a new cartoon strip, building on my previous work at college.  I wanted to keep most of the main characters from Iggman on Campus, Iggy the claustrophobic turtle, Cabby the techno-bullfrog and Radic the antagonistic dragonfly, but I thought it would be a natural progression if they lived at a pond.  I also wanted to expand the premise of the cartoon beyond the pond to include all of nature.  I always enjoyed watching nature documentaries because I would always see the humor in them.  It seemed appropriate to combine both ideas into one feature and call it Environmental Pieces.  That title seemed a bit stiff and scientific and soon after Green Pieces was born.  The strip ran in a weekly local college paper and the Newtown Bee for a few months until the local daily paper, The Danbury News-Times, announced a cartoon contest, the winner of such would get one of the two open slots on the cartoon page.   My feature was entered into the contest by the editor of the paper who was impressed with "a young kid's fortitude and passion for cartooning."  After the votes were counted, my strip finished second behind Brian Walker's feature Hi and Lois.  Green Pieces ran daily for years until I moved to Arizona to develop my Landscape Architectural career.  Green Pieces has continued to be published in Arizona local papers and publications.  Currently, it is also flourishing and growing via the Internet at www.greenpiecescartoons.com and at www.gocomics.com/green-pieces.
David: You have a great love of nature, how has that inspired your work and has it influenced your "cartooning" routine?
Drew: I do have a great love and curiosity of nature.  It all started when I was growing up in rural Connecticut where I spent the majority of my time outside.  Remember, back then the only television was via an antenna.  There were no computers or the Internet.  All we had to entertain ourselves was creating and inventing activities outdoors.  The first moment that put me on the path to Green Pieces occurred when I was about seven years old.  I remember sprinting home one late summer day for dinner.  I stopped on our front steps to catch my breath.  Exhausted and hot, I threw myself down on the steps and looked up find myself face to face with a rather large squirrel with a large acorn in his mouth.  He was only several inches away from my face but surprisingly that fact didn't seem to bother him.  He stood up on his hind legs and put the acorn under one arm and looked at me.  We just stared at each other for what seem like an eternity.  All of a sudden, I heard this voice say "Where am I going to bury this?"  I shook my head in disbelief and all of a sudden, that squirrel put the acorn back in his mouth and it bounded off to the center of the yard.  While I sat there trying to convince myself that I just didn't hear what I thought I heard, the voice chimed again and said "How about over there on the other side of the tree?"  Sure enough, that squirrel took off to the other side of a big oak tree in my front yard.  To this day I don't know if it was the pure exhaustion or the heat, but for that moment it felt like I understood what the world was like from that squirrel's perspective.  Since then every time I see an animal or any part of nature, I immediately see the world from their point of view.   The cartoons just flow and run 24/7 in my head.  It just happens and I can't stop it so I have embraced it.  I am just lucky that the world we live in, from Nature's perspective anyway can be very funny.
David: Congratulations for being a finalist in the 2012 IBPA Benjamin Franklin Awards! What surprises can we expect to see from Iggy and the gang in the future?
Drew: "Did You Know That a Small Turtle Could Save the World?", that story is coming up this Fall.  We have many surprises in store at the Pond, especially when you have an intelligent and almost omnipotent frog like Cabby and a rogue dumpster diving raccoon like Roc.  Life at the pond almost parallels what is happening in our world.  New issues and events that shape our lives also filters back to nature and, of course, back to the pond.  Our readers can look forward to the mayhem that can be wrought when Cabby's inventions and experiments are let loose on the pond.  They will enjoy following Roc as he moves between the reality of his life at the Pond and his secret life living off of humanity.  (He is currently licking his wounds as his older brother Rollo – yes, Roc and Rollo – just beat Roc in an Iron Can Throw Down competition.  The storyline left Rollo crowned the newest Iron Can Chef and left Roc crowned, well, the readers will have to read the strip to find out.)  We will also be following the day to day antics between Iggy Turtle and that self proclaimed best friend of his, Radic Dragonfly.  Additionally, our readers have always enjoyed how Green Pieces takes them all over the world to discover other ecosystems and the characters that live in them.  Whether it's exploring the life deep in the oceans, catching a glimpse of life on the great African plains or seeing what is happening at the pond, Green Pieces will be there to open a window into the natural world.  With any luck, that window will reflect enlightenment, discovery and best of all, a few laughs.
David: What is your favorite thing about being a cartoonist and writing your own stories?
Drew: I enjoy creating the humorous premises that turn into cartoons.  There's also a lot of enjoyment being a writer and director when you have a good cast of characters with which to work.  I am here to state that laughing IS all that it's cracked up to be.  I enjoy laughing at a funny phrase that a character might say or imagining how one of them would react in any given situation.  Hands down, my favorite thing about being a cartoonist has been sharing the creative process with my wife Lisa.  This has given me a fresh perspective on the feature.  Writing and drawing a cartoon can be solitary work, but being able to share the humor and the joy of creating it with someone definitely makes it a lot more fun.  Sometimes, she even thinks I'm funny.
David: What is the greatest legacy you want to leave behind with "Green Pieces"?
Drew: To foster an appreciation and awareness of nature and the environment using humor.  Laughter is a very powerful tool in getting a person's attention about an idea.  Too often people can get overwhelmed by technology and their daily routines and lose sight of the world that's right outside their door.   If we can get someone to laugh and think about Nature in the process, then we have accomplished something.  Oh, yeah, and to impart the fact that claustrophobic turtles are people, too!
David: Thank you Drew, I appreciate you sharing "Green Pieces" and your desire to educate young and old about the environment with humor. I wish you continued success in all the endeavors you are involved with.
And now it is time for you to find out more about Drew and Green Pieces if you aren't already familiar with this fun and educational comic:
www.greenpiecescartoons.com     
www.facebook.com/pages/Green-piecesc-Cartoons-by-Drew-Aquilina/109993349029310
www.facebook.com/pages/Iggy-Turtle/328584460506748