Anne Morse-Hambrock is organizing the "Kenosha Festival of Cartooning". The Festival is a 3 day festival of live presentations,  workshops, a gallery show, panel discussions and community outreach by some of the nation's top cartoonists. Anne "wears many hats" from being a professional harpist, writing blogs, promoting cartoonist and coloring the comic strip "The Brilliant Mind of Edison Lee" for her husband cartoonist John Hambrock, and the list of her activities goes on. I had the privilege of speaking with Anne about the festival and her life as a creative person and am thrilled to have her share with us here at "Don't Pick the Flowers".
David: Hello Anne thanks so much for being featured at "Don't Pick the Flowers". You have organized a festival called "Kenosha Festival of Cartooning". Can you talk a little about Kenosha?
Kenosha is a great town located on the south east shore of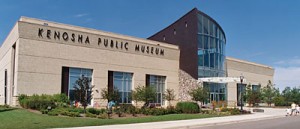 Lake Michigan. We are nicely situated an hour and fifteen minutes north of downtown Chicago and forty five minutes south of downtown Milwaukee.
Some readers may have heard of "Franks Diner" which has been featured on the food network show "Diners, Drive-ins and Dives". With a long history of auto manufacturing, Kenosha is a town that never left the 1950's behind. What I mean by that is that we have a number of drive-in restaurants, complete with car hops, and a drive-in movie theater. It isn't that these places were created to cash in on interest in the '50s – they simply opened in the '50s and have been open ever since!
After Chrysler pulled out in 1989, Kenosha began to redefine itself. The plant buildings along the lakeshore were torn down and the city began developing the lakefront with new parks and Museums. The Kenosha Public Museum- the location for all the public events during the Kenosha Festival of Cartooning – is right on the lakeshore and has a stunning view of the lake through the second story atrium.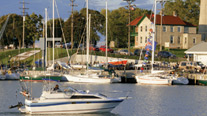 We also have several restaurants and shops within walking distance of the Museum and a street car that runs from the Metra commuter rail line that extends up from Chicago. There is an open air market on Saturdays (that will be running just outside the Museum the Saturday of the festival) and a full service marina.
Kenosha is home to Carthage College, Gateway Technical College, and the University of Wisconsin Parkside and has a large artistic community. We have a number of art galleries and a Symphony Orchestra. The Kenosha Public Museum offers several classes to the public, one of the most popular being one on cartooning!
The local paper, the Kenosha News, has been a tremendous sponsor! It carries over 25 comics daily in full color and does a great job of balancing older and newer comics.
David: What are some of the events and who will be speaking at the Festival?
Our guest speakers this year are:   Dave Coverly (Speed Bump), Hilary Price (Rhymes With Orange), Michael Jantze (The Norm), Greg Cravens (The Buckets), Norm Feuti(Retail and Gil) and Stephan Pastis (Pearls Before Swine)
We have a jam packed schedule of events planned! I am still in the planning stages for some of the events – I had to make sure I could meet my fundraising goal before I set everything in stone. Once the schedule is finalized, it will be on the official festival website.
All the guest artists will be giving slide presentations or "chalk talks" that will be open to the public and will take place at the Kenosha Public Museum. Those presentations will be on Thursday evening, Friday evening, and most of the day Saturday.
There will be a children's cartooning workshop Saturday morning. (This will be the only event to charge a fee and reservations are required.)
All the artists will be interviewed Thursday morning by Greg Berg on the local NPR affiliate WGTD.
The artists will be giving a number of presentations on the Carthage and UW Parkside campuses to art students.
There will be one panel discussion at the museum on Saturday afternoon and another for Carthage students on Thursday. I may be able to allow a limited number of folks to attend the Carthage lectures and panel – I'm still working through that one.
We will be hanging a show of original comic art at the Museum. The National Cartoonist Society Foundation has offered to be one of the principal festival underwriters and will be providing us with a number of original comics by high profile NCS artists to be auctioned for the benefit of children's charities here in Kenosha.
And I am hoping to have all the artists speak, in a panel format, to an assembly of local high school art students.
As you can see, the artists are going to be quite busy!
David: You have launched a Kickstarter Campaign to help fund the festival. For those who possibly don't know about Kickstarter, what are the incentives?
First, I'd like to mention how Kickstarter works for folks who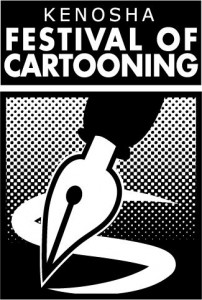 might not know about it.
Kickstarter is a site that helps creative people crowd source funding for creative projects. Backers pledge at different amounts – sort of like NPR and PBS – and each pledge amount comes with a reward.
No money changes hands unless the target amount – in our case, $10,000 – is reached by the pledge drive deadline. Our deadline is May 22.
Once we make our goal, backers, who have used their Amazon accounts to make a pledge, will see a charge applied to their account. If we fail to make our goal, we lose all the money pledged!
We have great incentives at all pledge levels! My husband John (Brilliant Mind of Edison Lee) designed terrific posters of each of the guest artists last year and will do so again this year. Copies of these posters, signed by the featured artist, are available to folks who pledge at almost every level – from $10 on up.
John also designs a great program booklet that has the complete schedule of public events along with artist bios and a list of our sponsors. Copies of this booklet signed by all the guest artists are available to folks who pledge at several levels – starting at $20. ALL Kickstarter backers will be listed as sponsors in the program book – if they wish to be, I won't put in anyone who wishes to remain anonymous – but only backers of $1000 or more will be listed as principal underwriters.
Backers at the $50 level can choose either a full set of signed posters (7 in all) or a signed book collection from one of the guest artists.
Other rewards available are personalized spot art drawings, original daily comic strips signed by the creator and a DVD of the panel discussions. (DVD for personal viewing only – the artists and the festival retain all broadcast rights, including the internet.)
For a complete list of rewards at each level, folks should go to the Kickstarter site for the Kenosha Festival of Cartooning.
David: You also do the coloring for the comic "The Brilliant Mind of Edison Lee" for your husband Cartoonist John Hambrock and you run the website "Spot the Cartoonist". Can you share a little about your life and the cartooning world?
I have always loved comics! When my husband John first came to me and said he wanted to try to become a syndicated cartoonist, I was completely on board. In fact, the first strip, which was called "Second Nature" was actually a joint venture between the two of us. We both contributed to writing and character development, but John did all the drawing, and we had both our names in the byline. Second Nature came close to syndication but didn't quite get to the finish line. And, as much as we enjoyed working together, we agreed that it was very, very hard to have two cooks in the kitchen, as it were.
John continued to develop more comic strips on his journey to syndication and I, while I still function as a muse and sometime editor, stepped back and focused on other things. Once The Brilliant Mind of Edison Lee became syndicated, we found out that, not only would Sunday strips be in color, each daily strip would have to be in color as well. That was time that John simply did not have. We used a talented college intern (Alyssa Abraham) for the first 3 months and then I took over the coloring duties and have colored almost every strip since. I think that's over 2000 now!
Even syndicated cartoonists have to do a lot of their own marketing and that has been another of my big jobs. I wear a lot of hats marketing the strip – I try to give the strip as much visibility on the internet as I can and I do a blog on the Edison site.
While I was tooling around the internet for Edison and also attending cartooning events, I decided I didn't like the way facebook and twitter announcements fell so rapidly down the newsfeed. So I started a website called "Spot the Cartoonist" that is devoted exclusively to listing places that the public can meet cartoonists. I list book signings, gallery receptions that will have the artist present, book tours, slideshows and festivals like the Kenosha Festival of Cartooning. Events are listed by place and date and are archived by month and by artist. There is also a search box if you cannot find what you are looking for. I recently added some great links in the sidebar to videos of cartoonists drawing, podcast interviews, and videos of Tom Gammill meeting cartoonists.
Apologies though, I put the site on hiatus this month when I launched the Kickstarter drive for the festival. I hope to be back on track with Spot the Cartoonist in June.
David: And to end, tell about your career as a professional harpist and artist.
Ah, the job I get paid for! I began my college studies as a double major in art and music. After my freshman year, my harp teacher retired and subsequently I changed schools. The new harp teacher was very hardcore and the art major got thrown under the bus! Since graduating with a degree in harp performance, I have been an active performer, teacher and clinician. I play all kinds of music, classical, celtic, pop and jazz and also compose. For anyone truly interested, I have a website that fully details my harp life.
As far as art is concerned, I got all those foundation classes under my belt and then set art aside for 3 years until, in my senior year, running out of music classes to take and maintain full time status, I signed up for a class in glass blowing. I was hooked! I have only gotten to blow glass sporadically since I left college – furnace time is expensive and furnaces are hard to come by – but it is still my favorite medium to work in. I also dabble in printmaking, fiber art, painting, drawing and jewelry making. Harp and comics keep me too busy to be consistently productive.
A few years ago I also started writing a humor column for my local paper. They asked me to describe myself and I said "I'm overbooked and underpaid!'  Later I decided that would be a great name for a blog for people who can't say "no" and are always doing too much. So that, in true overbooked fashion, is another site that I work on!
Thank you so much for asking me these questions and for helping to promote the Kenosha Festival of Cartooning! We're going to have a great time and everyone should come! (And Pledge!)
David: Thank you so much Anne! I appreciate you sharing about the "Kenosha Festival of Cartooning" and about your life. I am wishing you the best (in all aspects) with the Festival and KickStarter.
Now it's your turn to check out the Kickstarter, Festival, and Anne's sites. If you are a cartoonist or lover of comics this is a perfect place to help out the cartooning community. Check out these links: 
Kenosha Cartoon Festival Blog: kenoshacartoonfest.blogspot.com/
KickStarter: www.kickstarter.com/projects/732284070/kenosha-festival-of-cartooning
Kenosha Cartooning Festival Facebook: www.facebook.com/kenoshacartoonfest
The Brilliant Mind of Edison Lee Blog: edison-lee-blog.blogspot.com
Spot the Cartoonist: overbookedandunderpaid.typepad.com/spot_the_cartoonist
Writing, Art, Glass blowing: overbookedandunderpaid.typepad.com/overbooked-and-underpaid
Harpist: annemorsehambrock.com/index.html