Mark Anderson is the creative mind (and Artist) of "Andertoons". Mark graduated college with a music degree and he found that a music career was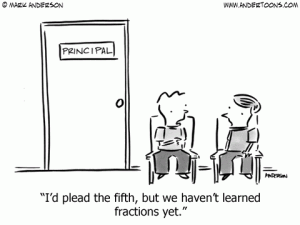 impractical. Cartoons were a creative outlet he toyed with at his living room coffee table in his spare time; and he had once contributed to his high school and college newspapers. Mark had always loved cartoons and began submitting cartoons to magazines. Mark said it was a rough start but after refining his talents, working early mornings and late nights, he quit his day job and launched Andertoons. Mark now has an impressive clients list which includes IBM, Microsoft, Harvard Business Review, to name just a few. So let's meet Mark Anderson, the man who turned a hobby into a successful career.  
David: Hello Mark and thank you so much for sharing "Andertoons" here at Don't Pick the Flowers". Can you share a little history of when you become interested in becoming a cartoonist and making comics your career?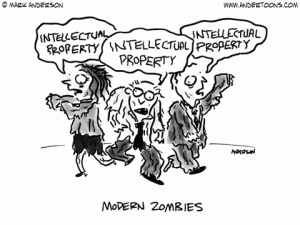 Hi David! Thanks for inviting me! I think I've wanted to be a cartoonist since I was a little kids tracing the Sunday comics, but I really went to work at making it a career soon after my wedding.
I'd been a working musician, but when we got married and I got a day job, finding time, energy and motivation to practice was difficult. So I put music down and started drawing up cartoons and sending them out to magazines. It was something I'd always wanted to try, and it was a more forgiving artistic outlet all the way around.
David: Where do you draw your inspiration and what are the things that inspire your comics?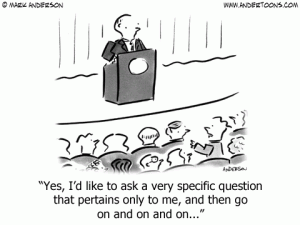 I read a lot. Blogs, newspapers, magazines, books, leaflets, skywriting, bathroom walls…  I also listen a lot to the radio.
I try to keep my ears open for turns of phrase or jargon that pop up. And when that's not enough, I sit in my office and stare until I can find that sort of writing place in my head.
David: Who are some of your cartooning heroes and what do you consider makes a good comic?
Writing is job one. I see all sorts of beautiful art out there, but precious few who are really effective writers. Good art is gravy, good writing is essential.
You know pretty much everyone lists the same names over and over (Schulz, Watterson, etc…), and those people certainly influenced me greatly, but I'd rather spotlight more recent influences: Richard Thompson is the whole package and then some, Amanda Conner oozes joy out of every line, Darwyn Cooke is who I want to be when I grow up, and Mo Willems makes me snort milk out my nose, even when I'm not drinking milk.
David: What is it like in the "A Day in the Life of Cartoonist Mark Anderson"? Do you have a routine?
I like to do my writing and art in the morning, then save scanning, invoices and contracts and stuff for the afternoon. There's no typical day, it just depends on what work I have.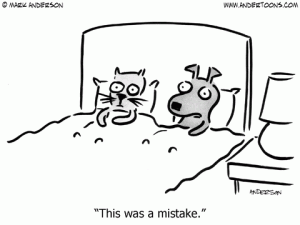 I'm also a stay-at-home dad, so there's plenty of dad duty to juggle in there too. It's exhausting, frustrating, and fun at the same time.
David: What advice do you give to anyone who wants to become a cartoonist?
Don't wait for inspiration or free time or whatever else to come. Just sit down every day and do the work.
David: Thank you Mark for sharing your work. It's a true success story to take a hobby and turn it into a rewarding career.
Find out more of Mark Anderson and Andertoons at: 
www.andertoons.com/cartoon-blog