Justin Hillgrove is the creator of "Imps and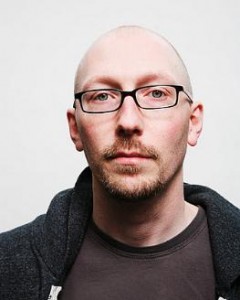 Monsters", and as the name implies a world of Monsters, Robots and the coolest creatures you can imagine. Justin has illustrated books, designed characters for card games, designs toys, and illustrates comic books, to name a few things he is involved with. Justin currently resides in Snohomish Washington with his wife and four children, where he stays busy creating fantastic fantasy worlds where the imagination can roam free. I'm a big fan of Justin's art and am honored to feature him at "Don't Pick the Flowers" blog.
David: Hello Justin, I love your Art, where do you get inspiration to create your unique artwork?
My inspiration comes from a lot of places. First, I think it comes from the things I did and enjoyed growing up. I played a lot of role playing games and tabletop war games, watched a lot of movies and cartoons (mostly on Saturday mornings since we didn't have Netflix when I was a kid), and read a lot of books and comics. I spent a lot of time drawing characters and monsters that I had created, from our Dungeons & Dragons sessions, and from the movies, cartoons, comics and books that I loved.
Secondly, I think a lot of my style and inspiration comes from having young kids. When I began this whole "Imps and Monsters" series I wanted to take my style, which at the time was a bit darker, and soften it to create creatures that would not scare my kids. I wanted them to be able to enjoy and not be afraid of anything I painted. Also, in observing and interacting with my children, I have seen them do some pretty funny, sweet and ridiculous things that adults would not even consider. I love using those moments as inspiration for paintings.
I am also inspired by my friends, family and other artists. The art community tends to be very supportive – I think we see each other less like competition and more like coworkers or team mates. I have learned so many techniques and have improved my skills so much thanks to the input and sharing of other artists. Also, the support of family has been key. My wife has been incredibly supportive even when my ideas and projects have seemed crazy – like, "I think I'll quit my job" or "I think I'd like to make some toys".
David: How did you get started in the art world and start "Imps and Monsters"?
I have worked on many art freelance jobs since high school including illustrating books, character design for a card game, graphic design, web graphics, etc. I did art on the side while I worked other day jobs, until I had the opportunity to work as a designer full time which I did for 10 years. During those years I continued doing illustration and my own personal art on the side. I did take a break from my art for a couple years after which a friend and fellow artist, Mike Capp got me excited about painting again. Using some materials I inherited from my grandfather, a talented oil painter, I started painting all kinds of monsters, imps, robots, etc. The difference was that this time I enjoyed it so much more than I ever had in the past. I started selling them and doing shows after some encouragement from my wife and eventually got so busy that I was able to shift to painting and creating on my own full time. I picked "Imps and Monsters" as a company name because I wanted a URL that could be easily remembered and that was what I was painting at the time.
David: Your artwork has a lot of emotion that is universal. Do you feel you have a message with your creations or is it for the love of creating creatures?

I do enjoy creating creatures, and I also enjoy using art to express some sort of emotion or to tell a story. I love when people look at a piece and spend time coming up with a whole story based on that single image. I like to think that the viewer finds their own messages in my art rather than a message I have imposed upon them. I also think its easier to empathize with the creatures in my paintings then it would be if the subjects were human because it removes the element of "the guy in that painting looks kinda like me" and leaves more room for "the thing in that painting feels like I do", if that makes sense.
David: You also are involved in illustrating "Sinja" can you talk a little about the book(s)?
My brother Brent and I had been wanting to work on a project for some time and finally took the opportunity to start Sinja about 2 years ago. What we did not realize was exactly how much work goes into the making of a comic book. It's been fun though. It also made me appreciate having another person to bounce ideas off of. The book is about a ninja-like character that is stuck between two opposite influences – a celestial monkey and a demonic sword. It's a journey/adventure and a great excuse to create all kinds of creatures and characters. We are just starting book 3 which we think will be the final installment.
David: Who are some of your "art heroes" and influences?

My early influences were Tony DiTerlizzi, Larry Elmore, Ray Harryhausen, Eastman & Laird, Brom, Hayao Miyazaki and a host of others I can't think of right now. More recently it has been mostly artist friends and acquaintances like Mike Capp, Brian Despain, Raven Mimura, Augie Pagan, and so many others – too many to name.
David: What can we expect to see in the future with "Imps and Monsters", any projects on the horizon?

That is a good question. You caught me at a moment when I am considering several new projects but haven't decided on definite directions. Also I have several projects in the works that I am unsure of the status on. There are lots of things I'd love to do though and of course I'll keep painting all the while.
David: I'm sure what ever you have planned will be amazing. I personally look forward to more of your incredible creations. Justin it is a true pleasure to feature you and your work.
Check out more of Justin Hillgrove and his wonderful art and website "Imps and Monsters":